The Pin Oak Charity Horse continued its 76-year legacy of giving with the presentation of a $162,000 check to Texas Children's Hospital this November at Texas Children's Hospital West Campus in Houston, TX.
Now a multi-week horse show held annually in March and April, the Pin Oak Charity Horse Show has the distinction of becoming the first donor to Texas Children's Hospital in 1947, providing the seed money to begin planning and building the world's first pediatric hospital.
In the decades since then, the Pin Oak Charity Horse Show has contributed nearly $7 million to the hospital, in addition to making gifts to the Ronald McDonald House Family Rooms and the Candlelighters Childhood Cancer Alliance.
This year's check presentation to Texas Children's Hospital was made possible thanks to generous sponsorship support of the 2022 Pin Oak Charity Horse Show.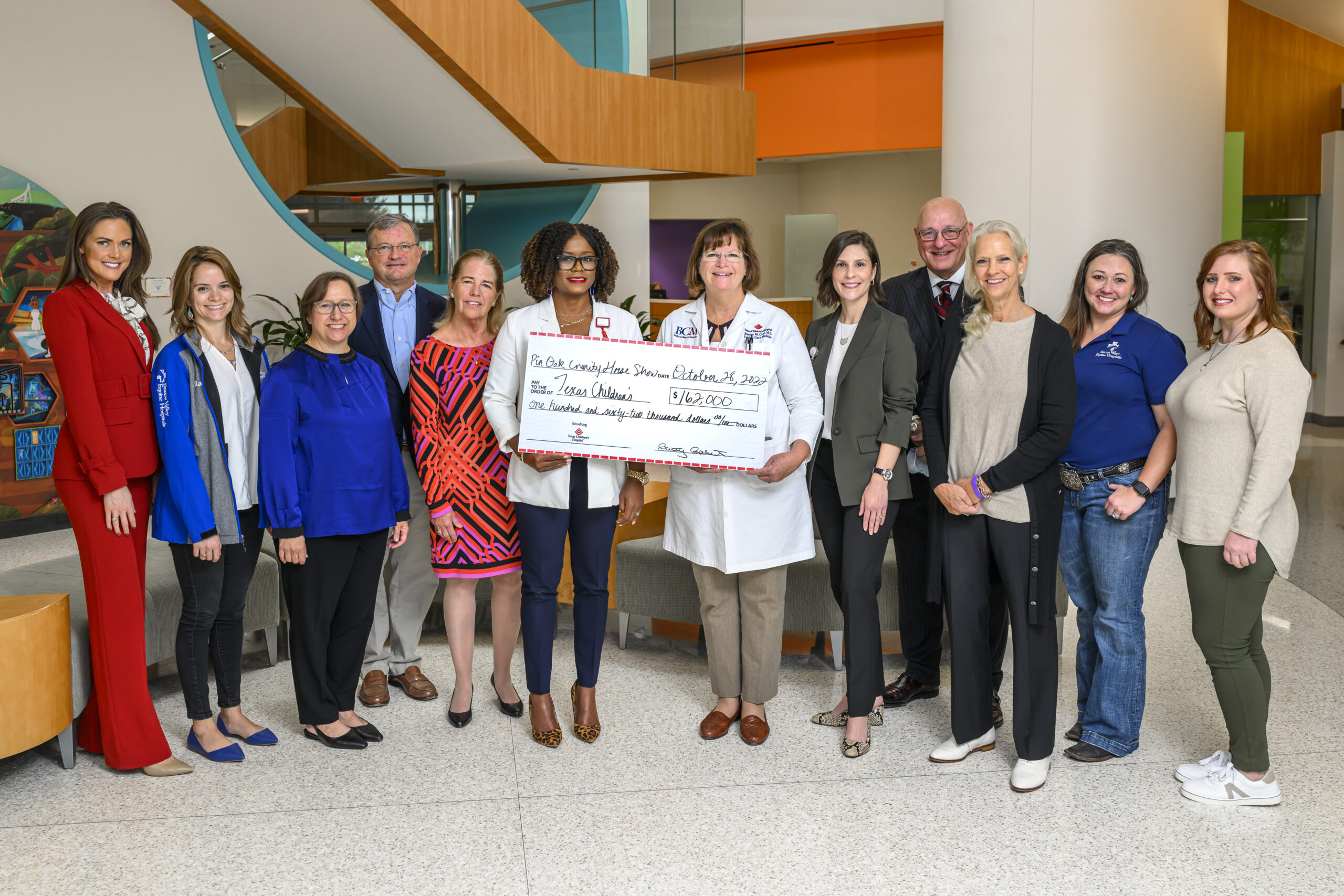 Representatives from the Pin Oak Charity Horse Show presented Texas Children's Hospital with a check for $162,000 at the West Campus earlier this month. Photo courtesy of Texas Children's Hospital

"I have been affiliated with the Pin Oak Charity Horse Show for almost 30 years," said Lynn Walsh, past Pin Oak Charity Horse Show president and current chair of the Pin Oak host committee. "This USEF Heritage designated horse show is one of the oldest in the country, with the show's initial donation used to build Texas Children's Hospital in the 1940s. Their motto then and now is, 'Let no child be left behind!' I am incredibly proud of the commitment of the Pin Oak equestrian community to help sick children by supporting Pin Oak!"
The funds raised in 2022 complete Pin Oak's $500,000 commitment to the West Campus' Legacy Tower 12th-floor Pin Oak Patient Family Playroom in the intensive care unit and allow Pin Oak to begin a new commitment to Texas Children's breathing and exercise labs.
The labs are dedicated to providing the highest level of cardiovascular care to Texas Children's patients, offering comprehensive exercise testing to patients who have, or who are suspected to have, cardiovascular, pulmonary, metabolic or other forms of congenital or acquired pediatric disease to predict how their heart and lungs respond to exercise or other physical activities.
Pin Oak Charity Horse Show - Press release